Meet The World
At The Heart Of The City
A Landmark That Reverberates With Passion & Performance
GMR Aerocity, located at the heart of Delhi NCR with close proximity to both Domestic & International airports, with its magnificent & complete bouquet of leisure, business avenues & offerings, has rightly become the go-to place for the connoisseurs of the good life! Boasting a sustainable, smart, and resilient infrastructure with premium office spaces, world-class hospitality, 100+ world's most exquisite F&B brands, and a vibrant urban environment, GMR Aerocity is not only a popular destination for the active & tasteful city dwellers, but it routinely gets a marquee mention in major travel itineraries for travellers coming to the capital.

Modelled on the smart city concept by the GMR Group, GMR Aerocity boasts of futuristic offerings such as safe and walkable districts with multi-modal connectivity, open spaces, and modern amenities. Designed to ensure low environmental impact, it even encourages resource conservation.
GMR Group is among the top 5 airport developers and operators globally. The group presently owns and operates Delhi International Airport and Hyderabad International Airport. Apart from being one of the largest private airport operators in India, it is also the only Indian airport company to have developed and operated airports outside India. What's more! GMR is developing Greenfield Airports at Mopa in North Goa and Vizianagarm in Andhra Pradesh. It firmly places GMR Group as the leader in airport management covering all stages of the airport's lifecycle.

The Delhi International Airport serves as the international aviation hub of the capital as well as the rest of India. It spreads over a massive area of 2,06,63,248 sq. mtrs. and is the busiest airport in the country in terms of passenger and cargo traffic. Moreover, by 2030, the airport is expected to handle over 100 million passengers.
Tomorrow's Business Ecosystem, Today
Hospitality District
GMR Aerocity, New Delhi is amongst the largest and leading hospitality districts in India. With 11 of the most renowned international hospitality brands, it offers guests a choice of stay like no other. With over 4000+ operational rooms, luxurious facilities, and warm hospitality, it is a perfect place for business as well as the leisure traveller.
It also provides visitors with a plethora of the most premium F&B brands in the world/country offering a wide range of culinary experiences.
Gateway District
To be launched soon in all its exquisite grandeur, the Gateway District is the 2nd precinct of the new "Central Business District" – hosting a versatile mix of premium offices, retail destinations, world-class dining, entertainment, and leisure concepts.
Aerocity Downtown
Currently being planned, strategized & designed, it is the 3rd important pillar of the capital's new age "Central Business District", offering corporate entities a complete business ecosystem with premium office spaces, world-class amenities, and state-of-the-art infrastructure.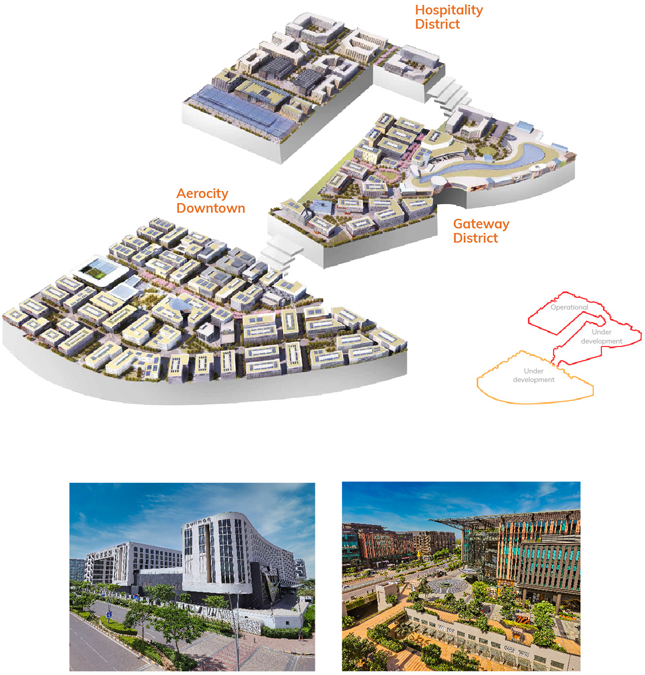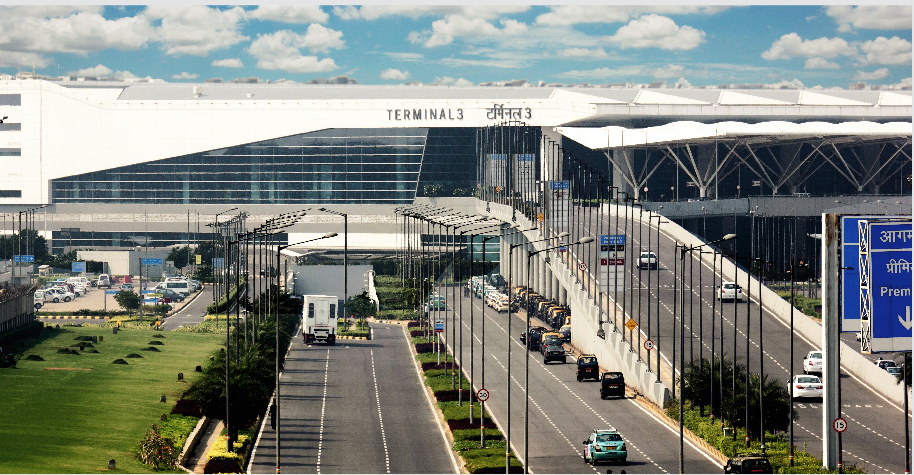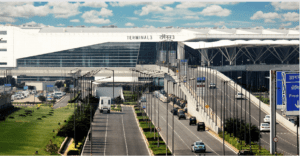 The Epicenter of Global Connections
GMR Aerocity is strategically located in close proximity to Delhi International Airport which gives businesses present here the flexibility of pan-globe operation & expansion.
A Smart and Sustainable Infrastructure
Modelled on the smart city concept, GMR Aerocity is the epitome of responsible, futuristic, smart & sustainable infrastructure development. It is specially designed with safe and walkable districts with multi-modal connectivity, open spaces, and non-polluting amenities. It has consciously adopted environment-friendly construction designs and actively encourages resource conservation in all its endeavours.
State-of-the-art
ICT Backbone
Highest 
Security Standard