Four Drinks To Enjoy This Season At GMR Aerocity
The beauty of enjoying cocktails during the festive season goes beyond the flavours. It's also about the ambience. Moreover, cocktails can be a great conversation starter and an icebreaker at gatherings. Whether you are someone who prefers classic cocktails or have a knack for elaborately curated concoctions, there is no better way to revel in the festive season with your cocktail in hand.
When you step into the thrilling world of Aerocity this festive season, you are sure to be in awe of the number of world-class F&B avenues that spoil you with a copious number of cocktail choices. GMR Aerocity has something for everyone, whether you are someone who prefers to raise a toast with your favourite people or just sip your delicious concoction in some quality alone time. This festive season, raise your glass to the joy of sipping, savouring, and celebrating with cocktails that make every moment a bit merrier. 
Looking for the perfect beverage to kickstart this year's festive season? Here are four options that are sure to lift your spirits.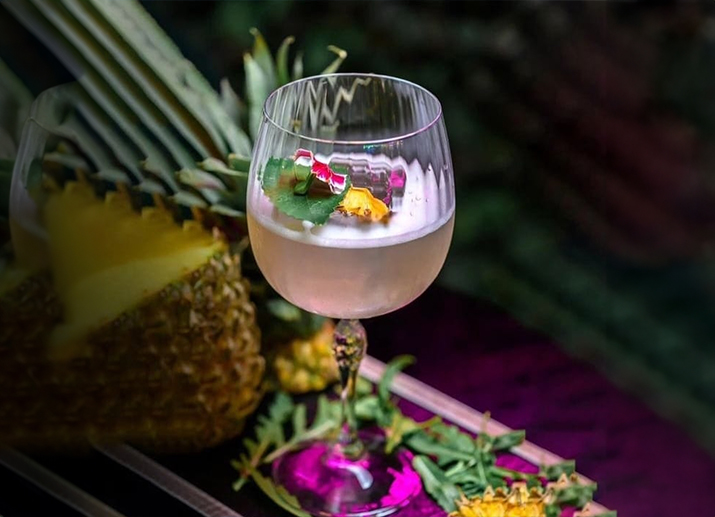 Mengsel  at Liv Bar

Are you looking for a place that not only provides you with an exceptional culinary experience but is also the ultimate party destination? Then you must visit Liv Bar at Worldmark 1, GMR Aerocity Delhi. Here you will be dancing the night away to the tunes of world-renowned DJs and a statuesque bar that would be the envy of alcohol connoisseurs. And before you think that is all, the bar offers a unique 'make-your-own-drinks' option that allows you to play at being a mixologist for the night, guided by the professionals.
One drink that stands out here, however, is the enchanting Mengsel. This delicious floral concoction combines a base of gin, which is complimented with lime juice. The addition of lavender syrup brings a distinctive floral flavour to the mix, which is enhanced by introducing pineapple to add a touch of sweetness and fruitiness and curry leaves to add some earthiness to the drink which truly makes it one of the most delectable cocktails out there.With its intricate blend of flavours, this drink is a must-try for anyone looking to elevate their festive season experience with a touch of elegance.
Mint to be from Plum By Bentchair
Plum by Bentchair is a restaurant with one of the most unusual decor in the city. Full of unconventional and eccentric artworks, sculptures, and mirrors with a plum unique backdrop, this restaurant has its own unique panache. Serving a variety of drinks, there is one that stands out as the perfect embodiment of the restaurant's vibrancy: The Mint To Be. The drink starts off with a vodka base and an addition of mint syrup and lemon juice to give it an iconic flavour profile. Served in a highball glass, the drink is topped off with hibiscus kombucha and garnished with a dehydrated lemon and mint spring.
Each ingredient is harmoniously blended to craft a symphony of flavours that capture the essence of a refreshing indulgence, with every sip unravelling the complexity and depth, instantly transporting you to a tropical paradise.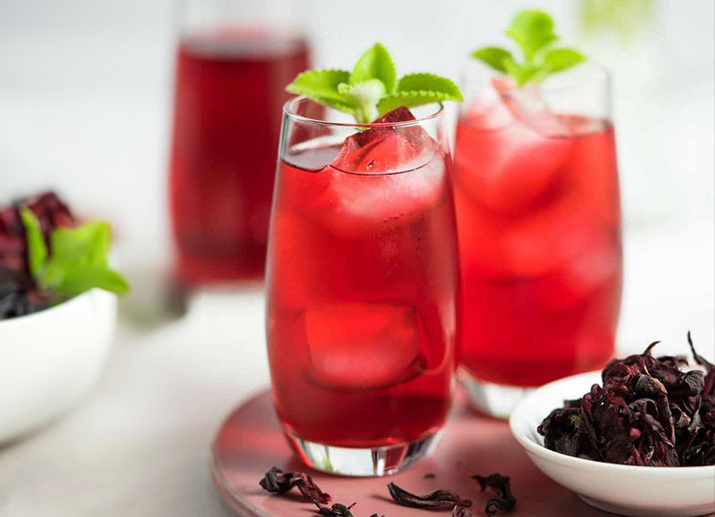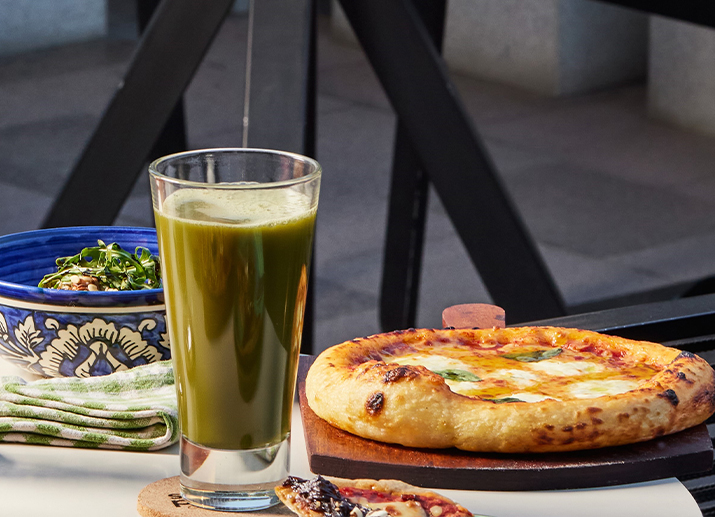 Green Bomb Smoothie at Soul Pantry
If we had to describe our next star in just three words, it would be understated yet elegant. The cosy interiors of the Soul Pantry at the Andaz Delhi Aerocity are the ideal place to wind down with your loved ones. Famous for its healthy twist on your favourite comfort foods, here you can relish flatbreads, indulgently thick shakes, and many other scrumptious dishes guilt-free.
One standout beverage ideal for your Sunday brunch is their Green Bomb Smoothie. The ideal refreshment to nourish your body and revitalise your soul, the rejuvenating concoction marries the goodness of kale, the subtle sweetness of pear, the comforting touch of honey, and the energising essence of matcha powder.
The earthy undertone of kale and the sweetness of pear juxtapose with the infusion of matcha powder, with its vibrant green hue, infusing the smoothie with a gentle, focused energy that is both invigorating and calming. The resulting flavour profile is a dance of contrasts, all tied together by the soothing sweetness of honey. This vibrant concoction curated to vivify the senses is indeed the perfect testament to the season of renewal.
Floral Magic by Plum By Bentchair
Is it a restaurant? Is it an avant-garde furniture store? Or better yet, is it a unique combination of the best of both worlds? If you chose the third option, you would be correct. The brainchild of the Bent Chair duo Natasha and Neeraj and owner of Fiddle First FnB Pvt. Ltd., Priyank Sukhija, Plum By Bent Chair brings to you a one-of-a-kind restaurant where you can not only eat mouthwatering pan-Asian dishes but also shop everything in sight.
The restaurant's decor is brimming with eccentric sculptures, unconventional artworks, and mirrors, all set against a plum backdrop. Yet there seems to be a pattern in the midst of madness, where all of this whimsicality comes together in a way peculiar to the place. The restaurant serves an array of drinks that mirror the decor's vibrancy and fantastical aesthetic.
One of the most unique drinks served by Plum is Floral Magic that starts off with a base of blue tea gin to which blue tea kombucha and elderflower syrup are added to give it its discerning taste profile. The drink is finished with a dash of lemon juice and a glass of gin and tonic and garnished with a dehydrated orange and an edible flower.
The drink offers a unique medley of flavours that dance on the palate, with the unique floral flavours inducing a natural effervescence that elevates the drink's profile, resulting in a delightful play of textures and tastes. The overall experience is a symphony of sweet, fruity, and floral notes, a testament to the richness and freshness of nature.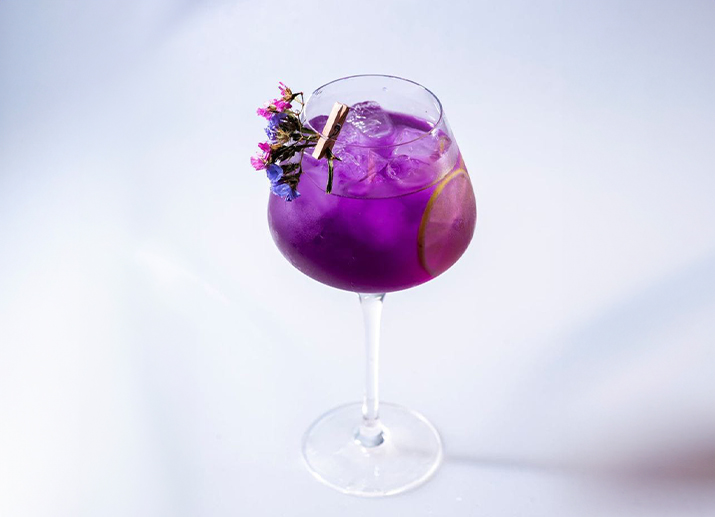 While this list provides you with some amazing options to refresh your palate this festive season, the allure of GMR Aerocity lies in the fact that the options there are endless. So what are you waiting for? Grab your next drink at GMR Aerocity Delhi now and celebrate this festive season in style.