Luxury, comfort, and hospitality at Pullman at GMR Aerocity
For a well-connected and the well-traveled; luxury, comfort and hospitality might be specific and co-relative to a specific brand offering. However, to consider it on a broader spectrum, hospitality in itself is a synonym for bliss and affluence in modern times. Over the years, hotel industry has outgrown and outperformed to deliver many success stories that are proven benchmarks of elite service, extreme comfort and epitome of luxury.
Pullman Hotels and Resorts is a French multinational upscale hotel brand owned by Accor. Pullman has approx. 117 hotels and resorts in 33 countries in Europe, Africa, the Middle-East, Asia Pacific, Australia and Latin America. Pullman, Aerocity is one of the best five star hotels in New Delhi and enjoys a prime location by virtue of its close proximity to the IGI Airport and Gurugram – The Business Hub of Delhi, NCR. For a cosmopolitan traveler, this may be just another hotel. However, stepping in the 100th property of Pullman is like entering a world of grandeur and splendor.
The brand reverberates with the present generation who is hyper-active, hyper-connected and reasonably dependent on technology and automation. To sync with the demands of the modern thoughtful traveler, Pullman Hotels and Resorts welcome international, cosmopolitan seasoned travelers from all over the world. Combining lifestyle and design, Pullman Hotel Aerocity offers an innovative, efficient and opulent hotel experience whether the guests are here for business or leisure. For one of the finest rooms and suites, award winning dining in Delhi NCR, and splendid choices for meetings, events & weddings; travelers need not look any further.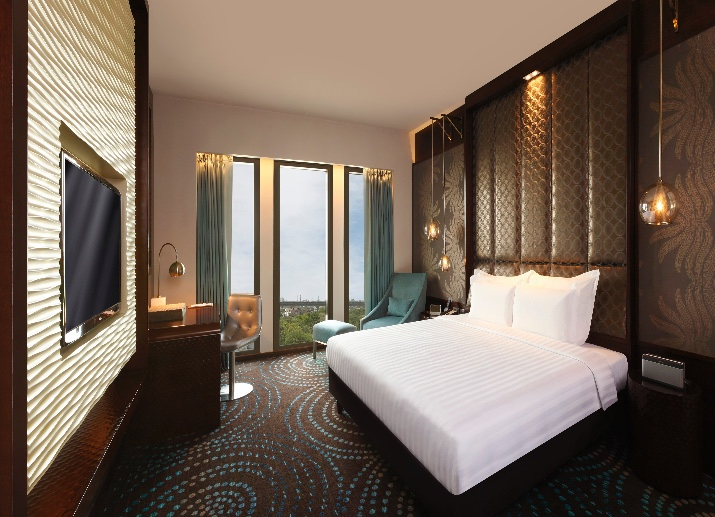 The Pullman New Delhi Aerocity boasts of 270 rooms in 5 distinguished categories; Deluxe Room, Executive Room, Executive Suite, a Presidential Suite and a differently abled room. The hotel has 17 suites with splendid views of the airport runway. All hotel rooms exhibit smart design and flaunt modern interiors and chic furnishings to cater to the needs of contemporary traveler. The rooms are well equipped with the leisure, safety and comfort essentials. These include free Wi-Fi, 42"LED, satellite channels, Bose station, electronic safe, keycard-operated door locks, smoke alarms, security peephole, 24-hrs room service, mini-bar, working desk, responsive climate control and soundproof windows. Not just this, every upgrade comes with additional facilities such as access to executive lounge, in room coffee maker, free laundry and airport transfers. The differently-abled room combines elegance & style with an increased ease of accessibility through wheel chair access, a dedicated shower chair and 24-hrs room service.
While the paramount luxury is already alluring you, a multitude of dining options is sure to itch your taste buds. The 'Farm to Table' concept at The Farmer's Basket happens to be the talk of the town for its much loved organic produce from the 5000 sq. ft. in-house kitchen garden. Café Pluck is 24*7 multi-cuisine casual and contemporary restaurant that serves a wholesome breakfast, freshly brewed tea & coffee, European, Italian, Indian delicacies round the clock in a vibrant ambience. Honk – The Pan Asian Restaurant serves delicacies from countries like China, Japan, Vietnam, Thailand and Malaysia. Tickle your taste buds with some tangy preparations here. Pling – The Luxury Lounge Bar is a perfect place to chill-out and spend light moments with friends and peers in sassy and upbeat settings. Our mixologists are sure to curate some exclusive drinks to vibe up your conversations.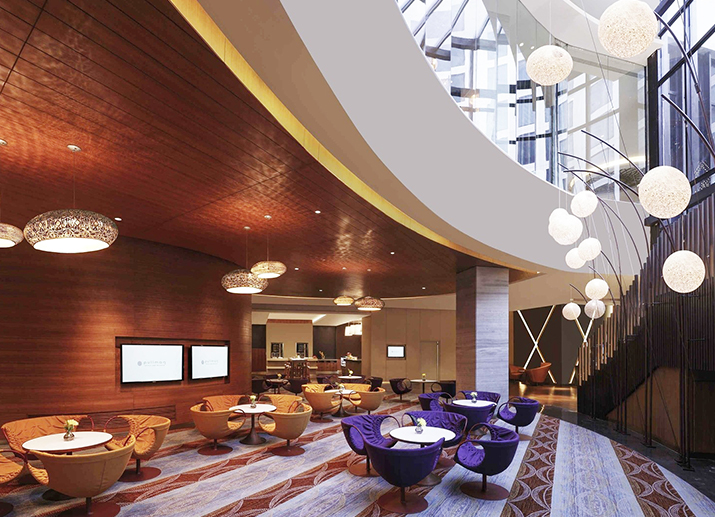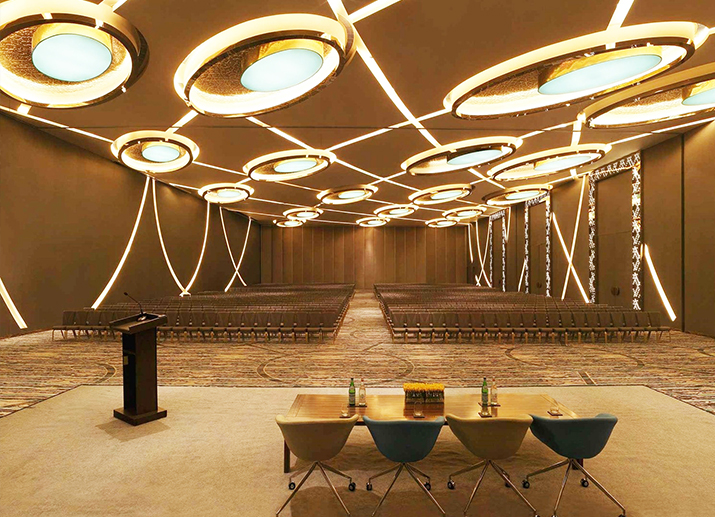 Pullman Aerocity is also host to a plethora of meeting & event spaces. It substantially caters to both; the business requirements of the corporate travelers and social events such as weddings and family get together, etc. The hotel offers a grand ball room, co- meeting space and a courtyard to cater to the diverse and differentiated meeting & events requirements. Peacock Ballroom is a magnificent pillarless banquet built in approx. 12000 sq. ft. and can hosts up to 1500 pax in casual style. Co-Meeting @Pullman is an innovative concept that brings the 'Work Hard, Play Hard' Motto to the boardrooms with a business playground design conducive to for ideation and realization. Co-meeting offers 13 modular meeting rooms and 3 boardrooms with the state-of-art infrastructure and amenities required for a modern-day work meeting. 
The meeting rooms open to a green and airy courtyard ideal as a break-out space, outdoor trainings or hi-tea & cocktails.Pullman Courtyard is an exemplary option to unwind and connect amidst relaxed natural environment. Indeed, Pullman Aerocity is a perfect venue with best banquet halls in New Delhi. 
Pullman Wellness Spa & Salon is a divine paradise and best spa & salon in New Delhi. The well trained staff and elite range of skin friendly products is bound to rejuvenate and energize you. Do come and explore our services for a calming, relaxing and tranquilizing experience. A fully-equipped health club and an outdoor swimming pool and bar promise impeccable service and warm hospitality.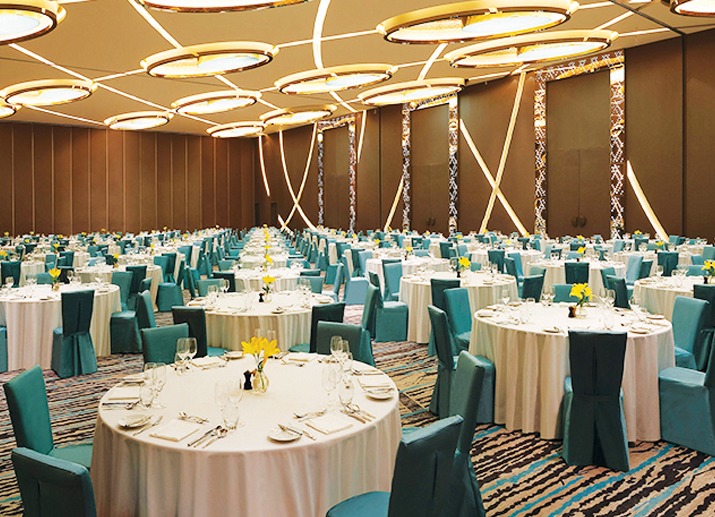 Pullman has been frequented by celebrities, the rich and the famous worldwide. And accessibility to an iconic brand in the heart of the country's capital makes it the ideal spot to mix business with some leisure. The warmth, the extravagance and the mystique hospitality awaits you at Pullman Aerocity, New Delhi.