Top 3 Brands to Shop at GMR Aerocity, New Delhi
Aerocity is a high-end experiential hub located aptly near the Indira Gandhi International Airport in New Delhi, India.  Relatively a newer shopping destination, Aerocity has quickly gained popularity among locals and tourists alike for its wide range of shopping options and modern, upscale atmosphere. It is a popular destination for visitors seeking a luxurious and immersive experience. Aerocity is home to a variety of stores, ranging from popular fashion brands to specialty stores and boutiques. Shoppers can find everything from high-end luxury items to affordable, trendy clothing and accessories. While everyone may have their own personal preferences, here we bring to you a list of top 3 brands to shop at Aerocity: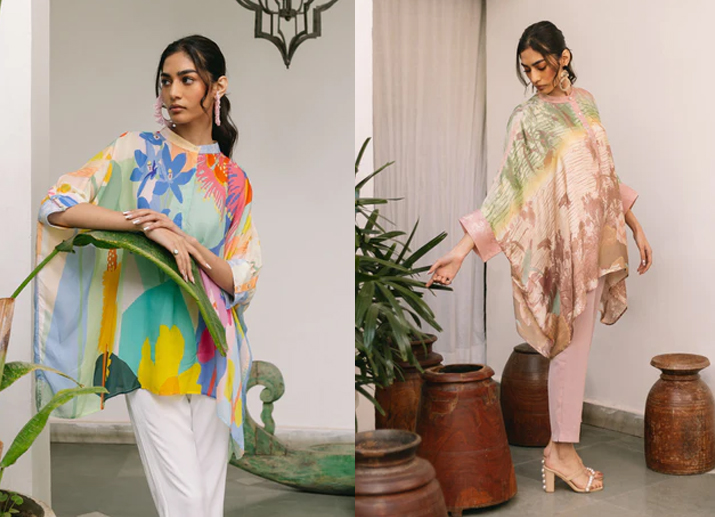 1. CHIQUE – Chique is an Indian fashion brand that offers a range of women's clothing and accessories. Eclectic, contemporary, romantic – the brand represents the pinnacle of urban dressing and is unsurpassed for its quality and attention to detail. The brand's owns a portfolio of various categories of clothing collection including work wear, casual wear, evening wear and occasion wear with a focus on high-quality fabrics and craftsmanship. There's a dress for every occasion and every mood. You may choose to pick up anything from a simple printed tunic, shirts or tops to skirts, jeans, ethnic bottoms or kurtas. Flaunt your style with bold colors or a trendy mix n match of patterns. Chique also offers a range of accessories such as bags, jewelry, and footwear. The brand has a strong presence in the Indian fashion market and is known for its commitment to quality, customer service, and affordable prices. The brand has several retail stores across India, an online store and has also participated in various fashion events and shows. Overall, Chique is a popular fashion brand inspired by Urban Indian women who aspire to express themselves as modern citizens of the world. Select from the versatile collection and give yourself a unique stylish looks.
2. NICOBAR – Nicobar is a contemporary Indian lifestyle brand that offers a range of products such as clothing, accessories, home decor, travel essentials, and other lifestyle items. The brand was founded in 2016 by Simran Lal and Raul Rai, who are also the founders of the popular Indian lifestyle brand, Good Earth. Nicobar draws inspiration from the natural beauty and cultural richness of India and creates products that reflect a modern and minimalistic aesthetic. The brand's products are designed to be functional, versatile and sustainable, with a focus on quality craftsmanship and ethical production practices. Nicobar has gained a cult following for its unique and modern take on traditional Indian clothing and home decor, as well as its commitment to sustainability and ethical manufacturing practices. The brand has several retail stores across India, an online store and has also collaborated with other brands and designers to create limited-edition collections. Inspirations from journeys across the Indian Ocean are anchored in the brand philosophy, i.e. to make products that are designed to last, timeless in appeal, influenced by Indian culture, but globally relevant.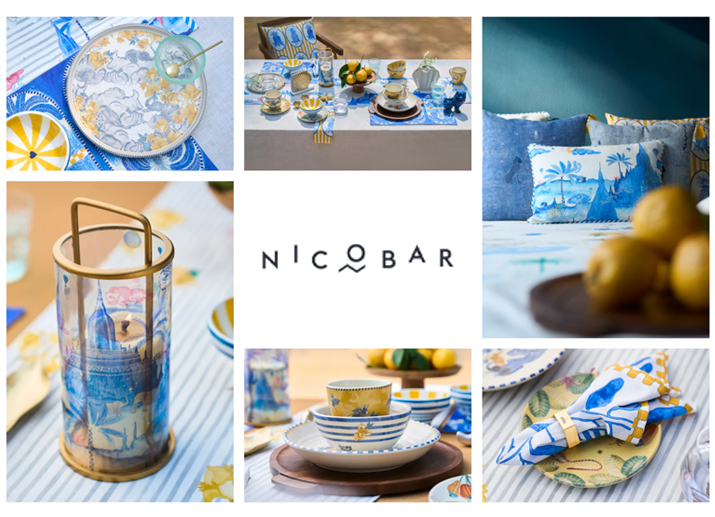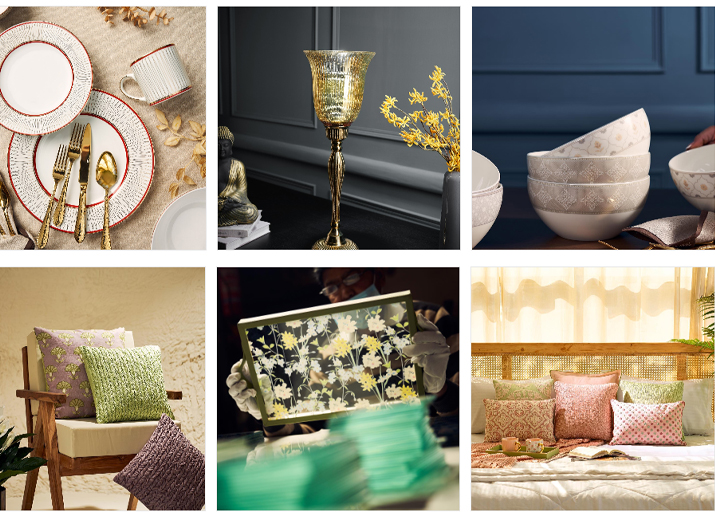 3. Pure Home + Living – This is India's leading home décor & lifestyle brand, established in 2011 that offers an exclusive assortment of classic and contemporary home accessories. The brand is known for its high-quality products, stylish designs and affordable prices. Pure Home + Living offers a range of products to suit different styles and preferences, from modern and minimalist to traditional and ornate. Its furniture collection includes a variety of pieces, such as sofas, beds, dining tables, and storage solutions, all designed with functionality and style in mind. The brand's home decor accessories range from decorative objects to wall art, rugs, and cushions, all carefully curated to add a touch of personality and style to any living space. In addition to its furniture and home decor collections, Pure Home + Living also offers a range of kitchenware products, including cookware, dinnerware, and kitchen accessories. These products are designed to be both functional and stylish, making them ideal for everyday use or for entertaining guests. Overall, Pure Home + Living is a brand that aims to bring style and quality to the home, with a range of products that cater to different styles and needs. With its commitment to affordability, quality, and design, Pure Home + Living has become a popular choice for homeowners and design enthusiasts looking to add a touch of sophistication and style to their living spaces. Guided by a passion for timeless design and fine craftsmanship, we aim to ignite and inspire every home.
Whilst this is not just all, there is a lot more for you to explore and experience. All in all GMR Aerocity is an elite experiential destination with its convenient location, modern and upscale infrastructure and diverse options to suit a wide range of tastes and budgets.  Come, explore, engage and embrace the experiential vibes at GMR Aerocity, New Delhi