Where To Have A Sunny Sunday Brunch
The season of chill can be debilitating, but you can still find some relief in the form of outdoor brunches. We believe that on a lazy Sunday morning, you can never go wrong with a warm, cosy setting and delicious food while also soaking up the sun and exploring the most beautiful spots the city has to offer. As the year gets off to a flying start, let us make a resolution to treat ourselves and our loved ones with the right dose of love, appreciation, and, of course, awesome food. Speaking of which, GMR Aerocity is home to some of the finest restaurants that offer an exquisite brunch menu. Here is a list of some of the best Sunday brunch spots that you must explore in
GMR Aerocity.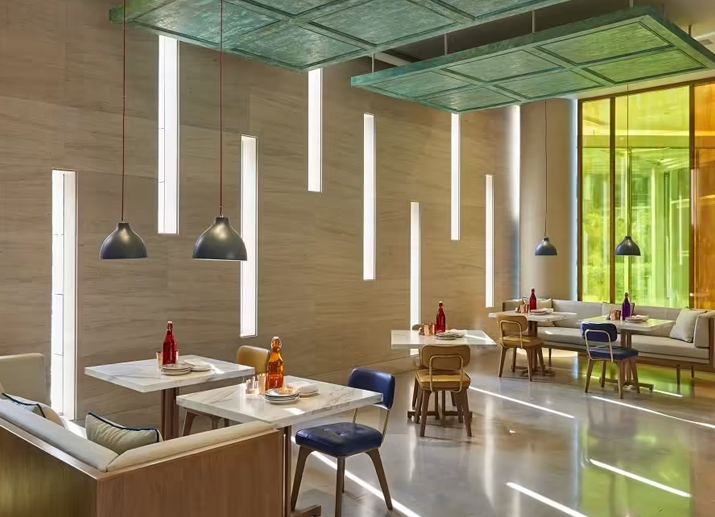 AnnaMaya
AnnaMaya offers a delightful dining experience to its customers with a vibrant color scheme and a beautiful seating arrangement indoors. It is the perfect setting for a 'Lazy Sunday Brunch' with your family or friends, as it offers a variety of breakfast and lunch options. In the restaurant, you can enjoy North Indian and European delights prepared with local ingredients. Delicious delights, a pleasing aroma, and a relaxing atmosphere make it the perfect spot to treat yourself to a Sunday brunch.
Not sure what to order? We got you. Try their green mango, tomato and avocado salad, chili lime dressing, AnnaMaya special breads, Delhi's original butter chicken, raw mango prawn curry, "diana" red rice.
Farzi Cafe
Farzi Cafe in GMR Aerocity offers a lavish family-style brunch, coupled with an al-fresco experience. This restaurant is an elaborate amalgamation of traditional global cuisine, with Indian influences, contemporary presentations, culinary styles, and ambience. With its beautiful outdoor seating and sophisticated ambience, this cafe creates an awe-inspiring atmosphere for its diners. This cosy and comfortable restaurant with helpful staff is the perfect choice for a family or group of friends getting together on a beautiful Sunday morning. Items to try here are – Farzi chicken caesar salad, Tandoori malai lollipop, Chutney chicken biryani, and Mutton irachi pepper fry.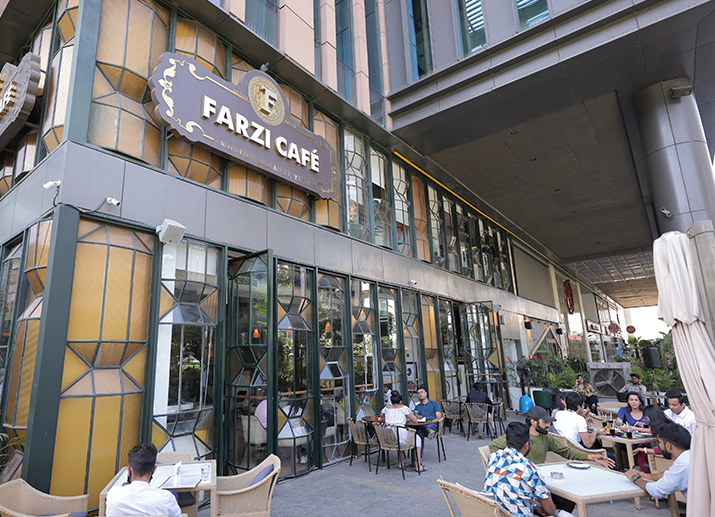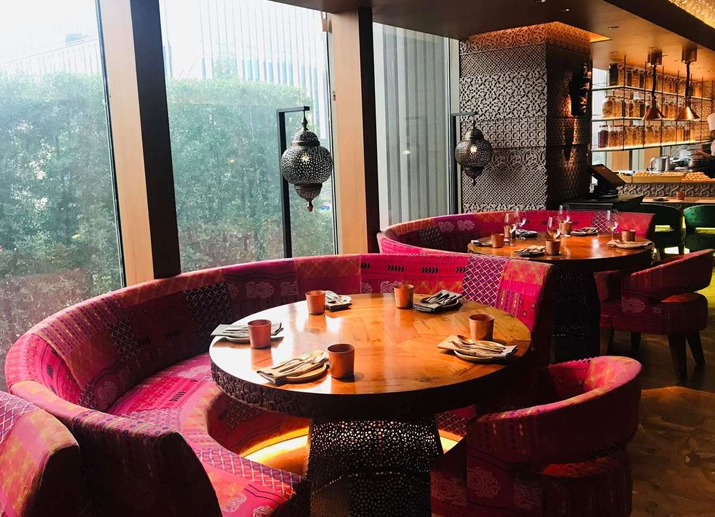 Kheer
Kheer brings to you a delightful combination of North Indian and Mughlai cuisines. Surrounded by a stunning ambience, this iconic restaurant is one of the best places to indulge in a rejuvenating Sunday brunch. Apart from offering a fine dining experience and an over-the-top, majestic interior, Kheer offers an extensive list of dishes that you do not want to miss out on. Kheer is the perfect destination for you and your family to enjoy a luxurious, tranquil atmosphere and indulge in a delicious gastronomic experience. Their Dhungar Machhalee, Tandoori Murgh, Malai Tikka, Barra Kabab, and Junglee Maas specialities are not to be missed.
Del 
Del at Roseate House is one of Delhi's best kept secrets for foodies. This bistro offers alfresco and indoor dining options for guests. With the sun warming your back, it is one of the most scenic spots for brunch on a beautiful Sunday morning. This place offers a mix of North Indian, Asian, Italian, and European delights. Del's delicious menu offerings and tranquil ambience amidst lush greenery make it a wonderful and instagrammable brunch spot. When you are here, you must try their famous Pot Potato, Bhutte ke kees, KitKat Shake, Saand Ki Aaankh, and Irish Cold Coffee.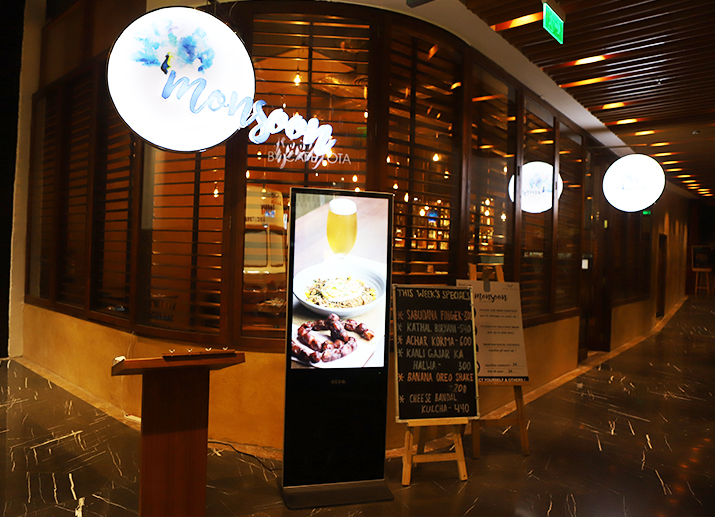 Pluck 
Known for its cooking stations, sophistication, warm hospitality, and calming atmosphere, Pluck at Pullman in GMR Aerocity is firmly committed to the concept of farm to table. This is the only restaurant in Delhi NCR with an attached vegetable and herb garden. By applying modern techniques to traditional Indian cuisine, the menu reflects an equal balance between modern Indian and contemporary European cooking. Come here with your friends and family for a creative take on the regular Sunday brunch. While you wait for the meal, you can also stroll through the garden in order to whet your appetite by observing what the restaurant will serve on your plate.
Do try out their three mushroom risotto, paneer lababadar involtini, five lentils crusted fish, trilogy of lamb, smoked aubergine & thyme tortellini and six hour cooked Belgium pork belly.